Ayataka
Ayataka

Ayataka is an authentic, premium tea that delivers a cloudy hue and a well-rounded flavor that lingers on the tongue, just as Japanese green tea brewed in a pot should. The name is derived from the name of the high-quality green tea first sold in the Meiji Era by Kanbayashi Shunsho Honten, a long-standing tea merchant with a history of over 450 years, that supplied tea leaves to the shogunate family from Uji, Kyoto. The character "taka" ("hawk" in Japanese) has long been used to symbolize precious tea leaves, and the character "aya" ("weaving" in Japanese) expresses how the precious and high-quality tea leaves are "woven" into the Ayataka brand, embodying the dedication to flavor in producing this premium tea.
Lineup
* Some products and product sizes may not be available in some regions.
Click here for this product's story.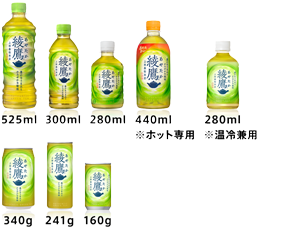 Ingredients, nutritional properties, other
Ingredient names:Japanese green tea (grown in Japan)/vitamin C
Product type:Japanese green tea (soft drink) Energy:0kcal/100ml
Product name
Ayataka
Specified allergic ingredients
None
Nutritional facts
Per 100 ml
Energy
0kcal
Protein
0g
Fat
0g
Carbohydrate
0g
Salt equivalent
0.02g