Canada Dry THE TANSAN STRONG
Canada Dry THE TANSAN STRONG

J.J. McLaughlin, who produced and sold soda water in Canada, had become captivated by the champagne he bought when in France. After many years of research, in 1904 he succeeded in developing ginger ale (champagne without the alcohol). As if to express his confidence, McLaughlin renamed the drink he had previously called "champagne of ginger ale" after his own country, calling it "Canada Dry."
Its dry taste and subdued sweetness is enjoyable both straight and as a mixer, evoking an elegant and refined world.
Lineup
* Certain products and product sizes may not be available in some regions.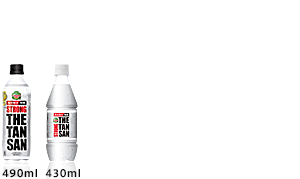 Ingredients, nutritional properties, other
Ingredients:Carbonic acid, sodium citrate
Product type:Carbonated beverage product Calories:0kcal/100ml
Product name
Canada Dry THE TANSAN STRONG

Allergens

None
N

utrition

facts
Per 100ml

Calories

0kcal
Protein
0g
Fat
0g

C

arbohydrates

0g
- Sugar
0g

Table s

alt equivalent
0g
Caffeine
0mg